WELCOME TO SHOP NANCY
POWERFUL
SILVER CREST BLENDER
This High-Capacity Multifunction Blender Is Your Best Deal NOW For Crushing, Grinding Or Blending Any Hard Food!!!. 4500WATTS
WORLD BEST AND MOST

POWERFUL

HEAVY DUTY BLENDER, CRUSH YOUR

BEANS,

TIGER NUT

AND OTHER CEREALS IN SECONDS
3000W Silver Crest Industrial heavy duty Blender..
Allow to Test it before you make payment...
I'm sure you were also thrilled to see the video showing this blender crushing a bottle.

How Intriguing!
While it's not meant for crushing bottles, that video just shows you how strong and efficient this blender is in crushing any kind of food.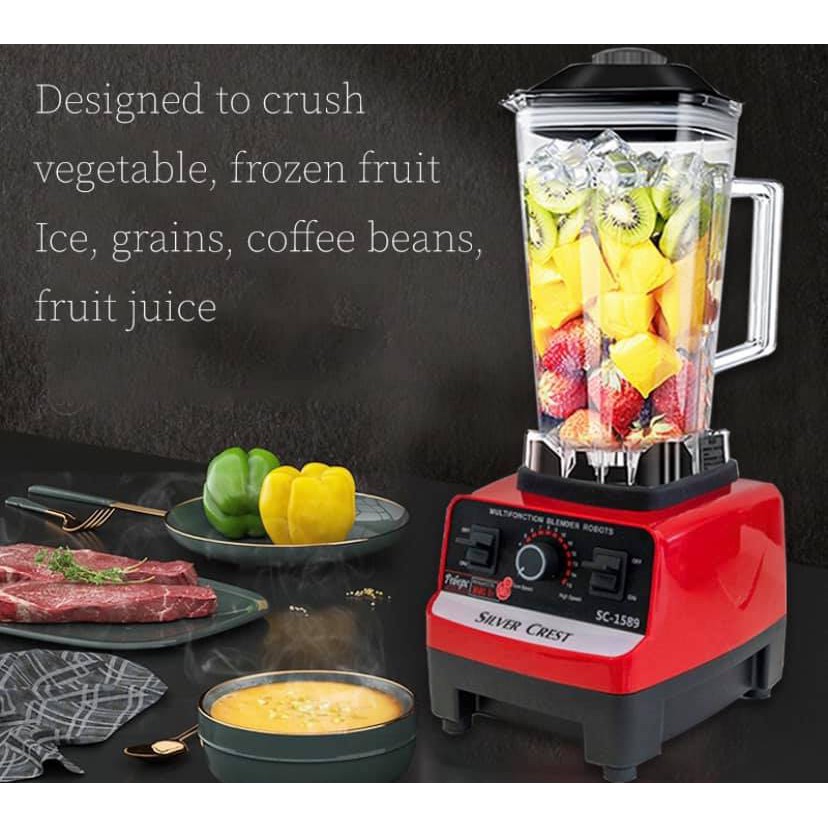 WHAT CAN I USE THIS BLENDER FOR

?
This Juicer can mix or make any kind of fruit or vegetables.

It has the ability to crush difficult fruits such as Coconut, Carrot, Apple, Mango, etc

It can also be used to make baby foods

It can be used to make smoothies.

It can be to grind dry or wet Beans to Powder for Moi and Akara

It can be to grind Debino (DATES) to Liquid

It can be to grind Tiger nut to Liquid

It can be to grind Bambara Nut(OKPA)

It can be to grind Coconut to Liquid

It can be to grind Dry Corner to Powder

Quick speed, can make a cup of juice within 1 minute.

Strong Coil and Durable Engine

And More with Unique Features you cannot find in any others with 3000 Watts
So Why Get This Today?
We only have LIMITED pieces available as orders keep pouring in every day!
It can be used to extract complete nutrients in fruit juices with ease

It cleans itself after use, how amazing

It can be used for making a smoothie of any variety

Its noise reduction rubber cushion makes it much quieter than those in the market.

It can be for personal (home) and mini-commercial use

It crushes hard foods like coconut and carrot well.

It can be used to blend baby foods with no seeds remaining.
Lasts Long: The blending jar is built to last. It has an easy-to-hold handle and lid. The blender base is equipped with anti-slip suction feet, so you can blend safely on your kitchen countertop without it falling.

Saves Time: It has the power to crush through whole fruits, vegetables, and ice in seconds. Powerful nutrient and vitamin extraction provide great-tasting, nutritious beverages.

Smart Cleaning: No need to remove the blades. With a drop of dish soap and warm water, this blender can clean itself in 30 to 60 seconds with high speed. The noise reduction rubber cushion makes it much quieter than those in the market.
World Class 2021 Silver Crest Blender, Every Woman's Dream Kitchen Multipurpose Machine.

Enjoy Massive 50% OFF Clearance Sales DISCOUNT.
HOW TO USE IT



Watch the video below to see how to use heavy duty blender
ALL ORDERS ARE DELIVERED WITHIN 1-5 WORKING DAYS
WE ARE CURRENTLY SELLING THIS PRODUCT AT A PROMO PRICE
THE NORMAL PRICE IS N38,000
WE ARE CURRENTLY SELLING AT A PROMO PRICE OF N30,000
KINDLY TAKE NOTE
Please ensure you are FULLY ready for this ORDER and the money to pay at the point of Delivery is available before placing your order.
Kindly Don't Place an order if you would be traveling soon, or you are not financially ready to receive the order in 2 - 4 days.
Delivery is 1-2 working days in Lagos and 3-5 working days outside Lagos
Before you place your order below, make sure that the money is available and you won't be traveling out of town within the next 1-5 days.
BONUS

HOT WATER FLASK VALUE N4500
FILL THE FORM BELOW TO PLACE YOUR ORDER IMMEDIATELY

YOU CAN REACH US OR PLACE YOUR ORDER VIA THIS NUMBER 09061615057

Disclaimer
This site is not a part of Facebook website or Facebook Inc. Additionally, this site is NOT
endorsed by Facebook in any way. FACEBOOK is a trademark of FACEBOOK inc.